>> HOLIDAYS: From Wednesday July 8th to Monday July 27th, no packages are sent due to holidays.
The best cargo bikes in one store!

BUSYBIKE is your local dealer with good service close to home.
All bicycles are sold with a free service after 4 months.

BUSYBIKE sells A-brand transport bicycles and cargo bikes for family and business.
All our bicycles are also available with electric pedal assistance.

A model of almost all cargo bikes shown is ready for a test ride.
Busybike is a dealer of, among others, Urban Arrow, Nihola, Bullitt, Workcycles and Onderwater child-parent-tandem.

Busybike - Let your bike do the work!
Offers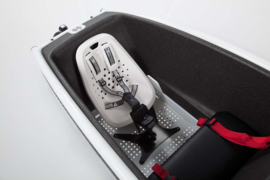 Yepp adapter + Yepp child seat (set)
€ 172,00
€ 139,00
Bent u ondernemer?
Investeringsaftrek:
Voor elektrische bakfietsen van boven de 3000 Euro kan u maar liefst 36% investeringsaftrek krijgen!
Wij kunnen u in contact brengen met een adviseur die e.e.a. regelt (no cure no pay).
Klik op deze link dan gaat u naar de website: Rijksdienst voor Ondernemend Nederland
Subsidie:
De Provincie Gelderland geeft maar liefst €1500 subsidie voor bakfietsen vanaf €3000.
En €500 voor bakfietsen tot €3000.
Meer informatie vindt u op deze link